Sirloin Roast with an Herb Crust

Ingredients for Roast:
− 1 4 lbs Sirloin (or similar beef roast)
− 4 Garlic cloves
− 3 Rosemary sprigs, fresh
− Salt and Pepper to taste
Ingredients for Herb Crust:
− 3 tbls Olive Oil
− 3 tbls Thyme, chopped
− 4 Garlic cloves
− 2 tsp Salt
− ¼ cup Breadcrumbs

Step 1: Prepare the AquaChef
Remove the basket from your AquaChef and set it aside. Fill the AquaChef with approximately 3.5 liters of water. Plug it in and turn it on. Set the AquaChef's temperature to 134° F and press the start button to preheat the water. The water will be preheated when the Indicator light changes from Red to Blue.
Step 2: Prepare the Roast
Sprinkle the Roast lightly with Salt and Pepper. Put the seasoned Roast in the bag with the Rosemary and Garlic.
Step 3: Cooking with the AquaChef
Once the AquaChef is preheated, set the cook time on your AquaChef to 8 hours. Then place the Tri Tip in the cooking basket and place it carefully into the AquaChef and put the lid on.
Step 4: Making the Crust
Preheat conventional oven to 425° F. Finely chop the Thyme, and crush Garlic into a medium size bowl. Add the Thyme, Salt, Breadcrumbs, and Olive Oil to the bowl and mix all the ingredients together.
Step 5: Cooking the Crust
Once the time is up, the AquaChef will beep. Carefully remove the basket from the AquaChef, as it will be hot. Remove the Roast from the bag and dry lightly with a paper towel. Rub the Roast with the Crust mixture and place it in a roasting pan, and place the pan in the preheated oven. Allow the coated Roast to cook for 5-10 minutes, until crust begins to color.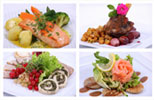 Category:
Sous Vide Recipes