Spicy Turkey Breast

− 1 whole Turkey Breast
− 2 tsp Chili Powder
− 1 tsp Cumin
− 1 tsp Salt
− ½ tsp Pepper

Step 1: Prepare the AquaChef
Remove the basket from your AquaChef and set it aside. Fill the AquaChef with approximately 3.5 liters of water. Plug it in and turn it on. Set the AquaChef's temperature to 146° F and press the start button to preheat the water. The water will be preheated when the Indicator light changes from Red to Blue.
Step 2: Prepare the Turkey
Sprinkle the Turkey Breast lightly with remaining ingredients.
Step 3: Cooking with the AquaChef
Once the AquaChef is preheated, set the cook time on your AquaChef to 1 hour. Then place the Turkey Breast in the cooking basket and place it carefully into the AquaChef and put the lid on.
Step 4: Finishing Turkey
Once the time is up, the AquaChef will beep. Carefully remove the basket from the AquaChef, as it will be hot. Remove the Turkey Breasts from the bag and dry it lightly with a paper towel. Slice the breast and serve.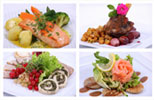 Category:
Sous Vide Recipes