The AquaChef Cookbook
Finally an answer to the hassle of home cooking! AquaChef is the revolutionary cooking aid that not only cooks your food, but does it well. The AquaChef Cookbook is filled with delicious, gourmet recipes for you to try with your new AquaChef Cooking System!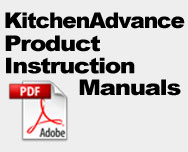 From:
KitchenAdvance Product Instruction Manuals
KitchenAdvance Instruction Manuals to help you understand more about your great KitchenAdvance products.